Only 14 years old, but the child artist Xeo Chu did sell the NFT painting "The Lucky Apricot" for nearly 23,000 USD on Binance NFT. The popularity of NFT means that NFT issuers must increase their knowledge in this area. This article will introduce and discuss some intellectual property rights issues related to NFT.
This article will introduce and discuss some intellectual property rights issues related to NFT.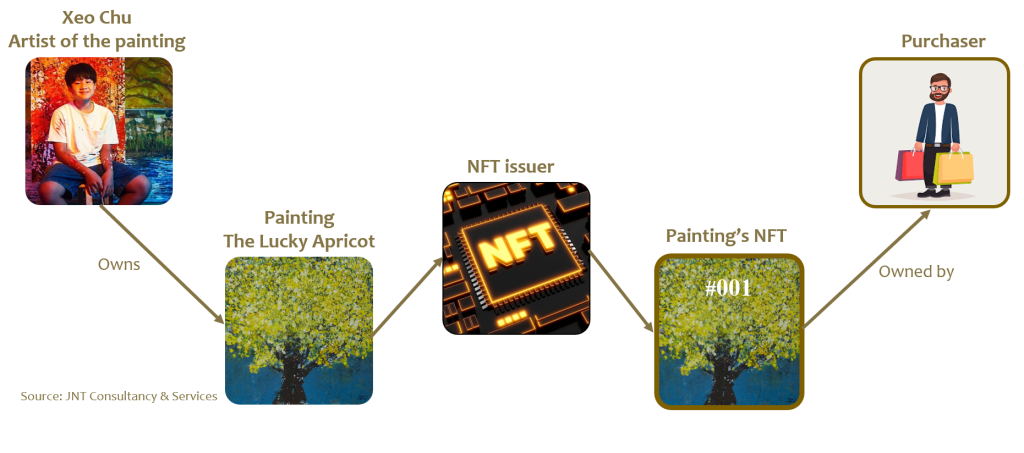 1. What exactly is NFT?
NFTs are blockchain-based units of value or "tokens", with a unique ID linked to an underlying asset. NFTs are composed of software code in the form of a so-called "smart contract". In essence, the NFT represents the digital form of the underlying asset, and each NFT has a unique identification code.
For example: in the diagram above, the underlying asset is a painting, each NFT is a digital version of that painting with a different code (001, 002, 003,…). In fact, there can be only 1 NFT of an underlying asset.
2. What do NFT buyers own?
Buyers of an NFT typically own nothing but the NFT itself. Going back to the diagram above, if you buy the NFT, you cannot copy the painting or print it on your shirt without the permission of the artist.
However, an NFT seller (assuming the NFT seller is also the owner of any intellectual property rights in the underlying asset) can, of course, transfer those intellectual property rights to the buyer by a written contract or a smart contract. For example, the smart contract is designed to make a royalty payment automatically to the original NFT seller on each onward sale of the NFT. Or as in the game CryptoKitties, NFT owners are entitled to commercialize the "kitten", provided that such use does not generate more than US$100,000 in income per year.
3. Infringement of intellectual property rights
Buying and selling NFTs on popular platforms can unintentionally or intentionally infringe the intellectual property rights of some parties because the checking process is still quite lax. Therefore, to ensure their own interests, platform operators should have a strict and legal due diligence procedure.
Some international brands like Hermès, Roc-A-Fella Records or DigiArt have faced legal issues related to NFT. You can learn more at the link below.
Read more: Notable NFT disputes
Proud to be a pioneering professional legal and financial consulting unit in the blockchain, JNT has been helping hundreds of Clients achieve their business goals. Please contact JNT for the most comprehensive solution for your Project!
Auth. Zed Nguyen