NFT, SECURITY TOKEN AND UTILITY TOKEN
Unless you've been living under a rock for the last few years, or live in some remote location, chances are you've heard the terms NFT, security token and utility token. But, in your heart of hearts, do actually know what they are?
If not, then we highly recommend spending a few minutes of your day disentangling these commonly quoted terms.
1. What is NFT, Security token and Utility token?
NFTs are digital assets that represent real-world objects such as pictures, music, in-game items, and videos. Nearly any digital asset, such as a photo or even a social media post, can be created and traded as an NFT.
Read more: How legal are Non-Fungible Tokens (NFT)?
Security tokens, also known as ownership tokens, are basically ordinary securities such as stocks, bonds and a unit in a collective investment scheme represented in a token. Some countries like Singapore have pretty clear regulations on tokens. Specifically in its "IRAS e-Tax Guide", a security token is understood as a digital token that provides security (e.g. equity or bond) investment in an entity.
On the other hand, utility tokens cannot be used to generate income or to invest. Utility tokens represent some rights to goods or services, such as discount vouchers or game tickets. Utility tokens are built with features that serve a variety of purposes.
Examples of 3 popular tokens today are illustrated in the following diagram: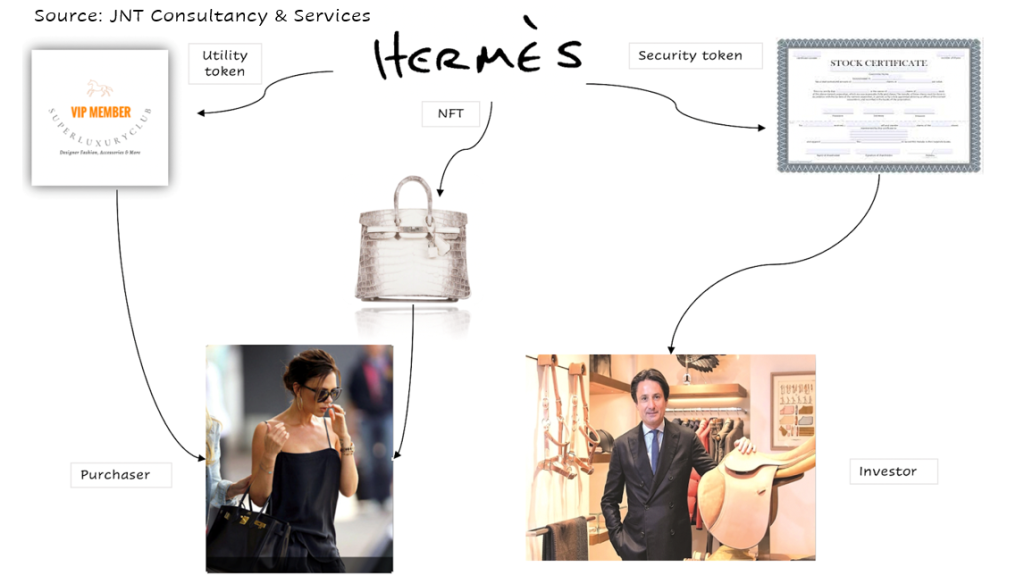 2. So how are the above tokens different?
NFT, security token and utility token are all built using the same kind of programming, but that's where the similarity ends. Each token comes with different characteristics.
First, each token serves a different purpose and audience. In the diagram above, the NFT is used as a document certifying that the Hermès bag is "authentic", while the security token is seen by investors as an investment in Hermès, like a stock or bond. Meanwhile, utility tokens are used by the purchaser as a means of payment for products or gift cards from the Hermès brand.
Read more: NFT and Intellectual Property Issues
Second, each NFT is a unique bag-authenticated version and each NFT cannot be exchanged for or equal to one another NFT. However, security tokens and utility tokens are "fungible," meaning that each token can be bought, sold, or exchanged for another token of the same type and value.
Third, the place to buy and sell these tokens is also different. Security tokens can only be traded on exchanges registered with the government, buyers also need to meet certain conditions to be able to buy – they must be accredited investors. Some of the current security token exchanges are INX Token and tZero. Utility tokens can be traded on popular exchanges like Binance, Gate.io,… Meanwhile, NFTs can be traded on platforms like OpenSea, Binance NFT or Nifty Gateway.
Read more: What license is needed in the NFT industry?
Conclusion
Security, utility, and NFT tokens are the three most popular types of tokens one can interact with today. Security tokens represent the shares, investment fund units, and bonds. Utility tokens can be perceived as an inside-product "currency" or "ignition key" that grants you access to goods and services or empowers buyers with other perks. NFTs represent a one-of-a-kind collectable unit, denoting you as a possessor of a certain thing.
Proud to be a pioneering professional legal and financial consulting unit in the blockchain, JNT has been helping hundreds of Clients achieve their business goals. Please contact JNT for the most comprehensive solution for your Project!
Auth. Zed Nguyen